The company Health at Scale uses machine learning to improve outcomes for individual patients.Zach Winn | Becky Ham | MIT News Office | MIT News correspondentPublication Date:September 1, 2020 PRESS INQUIRIES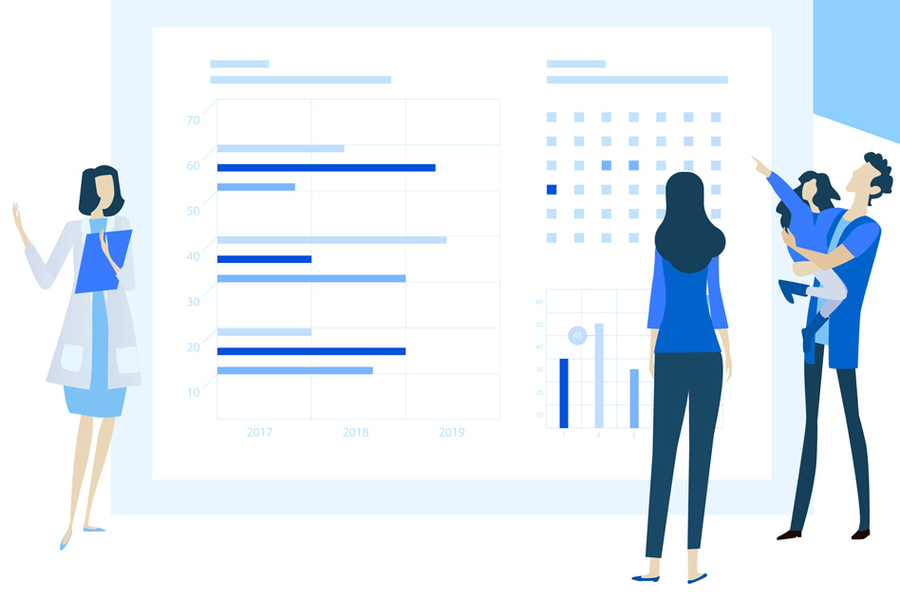 Caption:The machine learning startup Health at Scale, founded by MIT alumni along with Professor John Guttag, is helping make health care more proactive and personalized.Credits:Image courtesy of Health at Scale
The health care system today largely focuses on helping people after they have problems. When they do receive treatment, it's based on what has worked best on average across a huge, diverse group of patients.
Now the company Health at Scale is making health care more proactive and personalized — and, true to its name, it's doing so for millions of people.
Health at Scale uses a new approach for making care recommendations based on new classes of machine-learning models that work even when only small amounts of data on individual patients, providers, and treatments are available.
The company is already working with health plans, insurers, and employers to match patients with doctors. It's also helping to identify people at rising risk of visiting the emergency department or being hospitalized in the future, and to predict the progression of chronic diseases. Recently, Health at Scale showed its models can identify people at risk of severe respiratory infections like influenza or pneumonia, or, potentially, Covid-19.
"From the beginning, we decided all of our predictions would be related to achieving better outcomes for patients," says John Guttag, chief technology officer of Health at Scale and the Dugald C. Jackson Professor of Computer Science and Electrical Engineering at MIT. "We're trying to predict what treatment or physician or intervention would lead to better outcomes for people."
A new approach to improving health
Health at Scale co-founder and CEO Zeeshan Syed met Guttag while studying electrical engineering and computer science at MIT. Guttag served as Syed's advisor for his bachelor's and master's degrees. When Syed decided to pursue his PhD, he only applied to one school, and his advisor was easy to choose.
Syed did his PhD through the Harvard-MIT Program in Health Sciences and Technology (HST). During that time, he looked at how patients who'd had heart attacks could be better managed. The work was personal for Syed: His father had recently suffered a serious heart attack.
Through the work, Syed met Mohammed Saeed SM '97, PhD '07, who was also in the HST program. Syed, Guttag, and Saeed founded Health at Scale in 2015 along with David Guttag '05, focusing on using core advances in machine learning to solve some of health care's hardest problems.
"It started with the burning itch to address real challenges in health care about personalization and prediction," Syed says.
From the beginning, the founders knew their solutions needed to work with widely available data like health care claims, which include information on diagnoses, tests, prescriptions, and more. They also sought to build tools for cleaning up and processing raw data sets, so that their models would be part of what Guttag refers to as a "full machine-learning stack for health care."
Finally, to deliver effective, personalized solutions, the founders knew their models needed to work with small numbers of encounters for individual physicians, clinics, and patients, which posed severe challenges for conventional AI and machine learning.
"The large companies getting into [the health care AI] space had it wrong in that they viewed it as a big data problem," Guttag says. "They thought, 'We're the experts. No one's better at crunching large amounts of data than us.' We thought if you want to make the right decision for individuals, the problem was a small data problem: Each patient is different, and we didn't want to recommend to patients what was best on average. We wanted what was best for each individual."
The company's first models helped recommend skilled nursing facilities for post-acute care patients. Many such patients experience further health problems and return to the hospital. Health at Scale's models showed that some facilities were better at helping specific kinds of people with specific health problems. For example, a 64-year-old man with a history of cardiovascular disease may fare better at one facility compared to another.
Today the company's recommendations help guide patients to the primary care physicians, surgeons, and specialists that are best suited for them. Guttag even used the service when he got his hip replaced last year.
Health at Scale also helps organizations identify people at rising risk of specific adverse health events, like heart attacks, in the future.